———————————————————————————–
*********BWS RECOMMENDED***********
SHERPA  COMMERCIAL BRAKE TESTER,
MODEL BPS TWIN 18
Approved for ATF & ATL Classes IV,  VII & 5L
3 Years Warranty – Parts & Labour, [subject to maintenance contract]
One Man Operation As Standard
VOSA ATF Software Programme
Free Database Updates At Time Of Calibrations
Click On Pictures To Magnify
Manufactured In Germany Specifically for the UK
Suitable For Outdoor Use With Appropriate Drainage
Heavy Duty 11kw ECO Motors – Lower Energy Consumption
Designed For High Usage and for ATF Test Lanes
Easily Exit Traction Drive Out System
AMAZING PRICE OF £28,500 + VAT !
————————————————————————————
MAHA Commercial Brake Tester
FULL VOSA SPEC
Roller Brake Tester combined for car and Trucks to 20 t axle load
The IW 7 EUROSYSTEM brake tester is the premium tester of the IW 7 series.
With the EUROSYSTEM testing lane software based on Windows XP and an SQL
database, it provides the user with endless possibilities.
Whether "only" needed as a brake tester, used as diagnostics reception or as
control unit for the workshop processes.
The IW 7 EUROSYSTEM is the all-rounder.
In combination with other testers, it provides a complete, objective assessment
of the vehicle within seconds.
Recommended by vehicle manufacturers and tested by international testing
organizations in endurance tests, the tester provides a high degree of ergonomics.
Upgradeable with all-wheel regulation set, the IW 7 EUROSYSTEM is the ideal diagnostic brake tester.
Particularly suitable for reception and diagnostics lanes with high vehicle throughput;
it exceeds the requirements for the main inspection and is network-compatible.
TWO MAN OPERATION
£32,995 Delivered & Installed
UPGRADE TO 1 MAN OPERATION AT COST OF £2,095.00
————————————————————————————————————————————————————–
Tecalemit 9500
DE 9500 Commercial Vehicle Roller Brake Tester suitable for testing all classes of motor vehicle inc. PSV, HGV & Tri-axle units
Approved for classes IV, V, VL, VII MOT Testing
VOSA Database interface
Unique colour LCD Display screen
Infra-red remote control
Tandem Axle testing facility
Bi-directional option available
Axle weighing included
Messages with menus, operator prompts and vehicle data displays
Analysis of brake imbalance
Locking rollers to assist vehicle drive out
Long-life oven cured roller friction surface
Wheel drag and ovality assessment
Applied brake testing facility
Test result storage and recall facility
The Tecalemit DE 9500V & DE 9502V Commercial Vehicle Brake Testers (CVBT) have been developed to meet the increasing demand for a high specification, single man operation brake tester that meets UK (VOSA) testing requirements for MOT Classes IV, V, VL, & VII. Launched in 2006 the DE 9500V range is the most recent evolution of Tecalemit heavy duty brake testers which have been market leading products in the UK for over 40 years. Clients can chose either the standard DE 9500V which has a raised rear roller to assist with the testing of Tri-axle vehicles and trailers or the DE9502V which has level rollers allowing testing in both directions (Bi-directional).
Delivered & Installed £29,995.00
UPGRADE TO 1 MAN OPERATION AT COST OF £2095.00
——————————————————————————————————————————————————–
NUSSBAUM BT650 COMMERCIAL BRAKE TESTER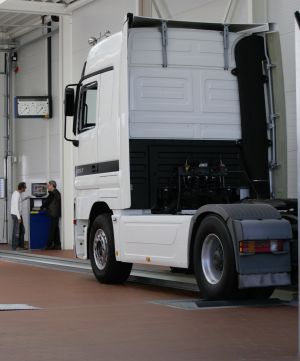 The brake tester by Nussbaum guides the user automatically through the complete testing program.
The rollers start up as soon as the front wheels are located in position, and measures the rolling friction, ovality and brake force, which are all displayed on the large analogue display and registered on the control board.
The 50 mm elevated rear rollers enable testing with even higher brake forces.
The extensive selection of Nussbaum BT accessories rounds off the scope of possibilities nicely and leaves no requirements unfulfilled.
The new electronics and innovative design, combined with the proven sophisticated technology guarantees not only an efficient and economic business but also the opportunity to progressively upgrade through modular extensions to a complete test lane with a PC-connection.
PRICE ON APPLICATION